In-N-Out Burger, 2020
Digital print on fine art paper with hand-made acrylic emoji appliqué
61 x 61 x 1cm
Edition of 30 + 5 AP, each unique
Signed and numbered
Gina Beavers is known for her inflated object-like paintings of Instagram pics that circulate widely around the web. Beavers tends to enter the circulation of these digital images – from screen to screen – and pull something very meaty and palpable out of them. This net-savvy use of the medium has garnered her critical acclaim and a recent solo show at MoMA PS1 in New York, "The Life I Deserve" (2019). The exhibition showcased Beavers perverse penchant for all manner of image porn: from food to nail art to makeup tutorials, where lipstick, like her treatment of paint, is laid on thick.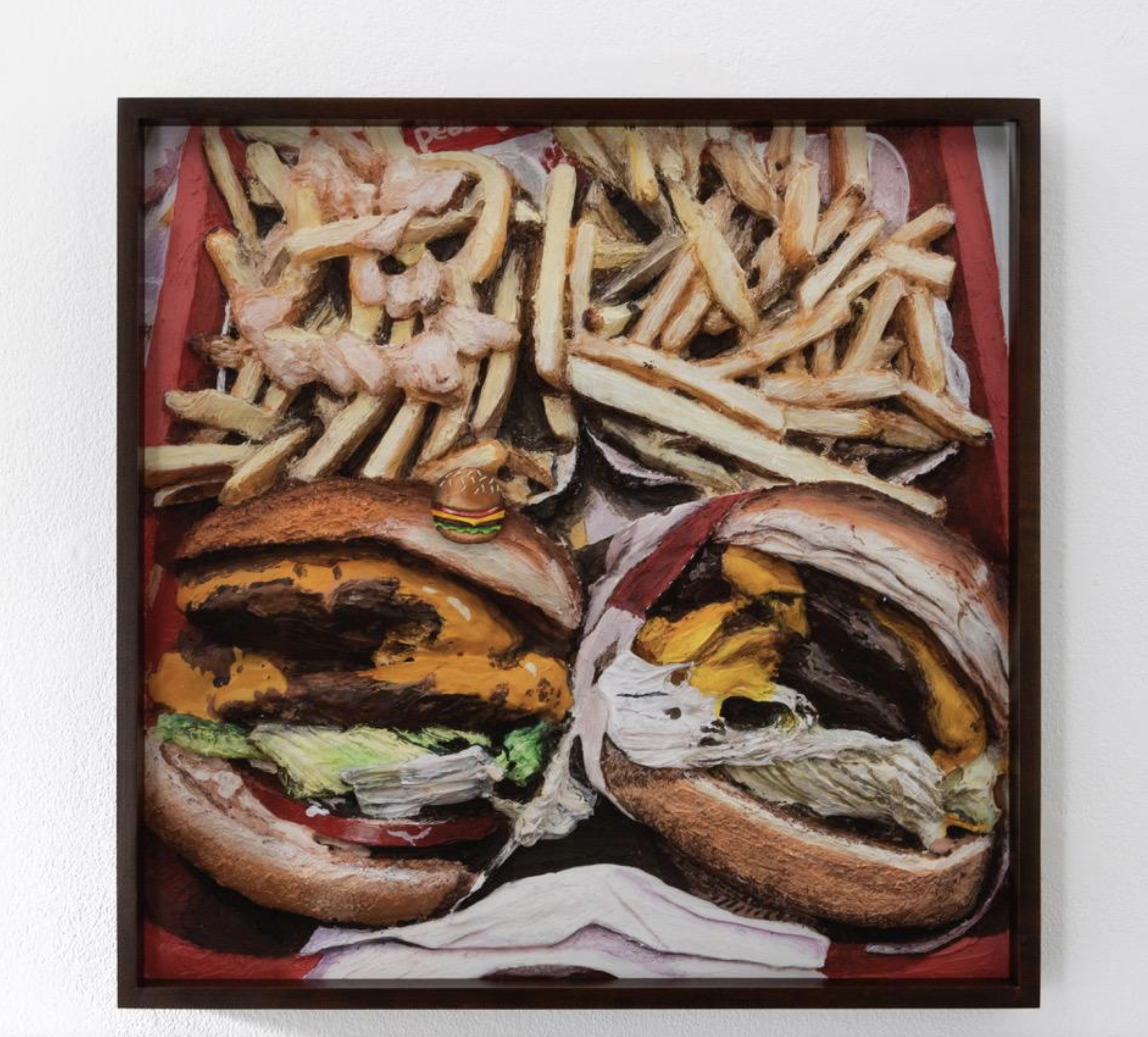 One of Beaver's most talked-about works is the playfully bulging cheeseburgers and fries, "In-N-Out Burger" (2014), taken from an up-close shot of one of the fast food chain's signature dishes. For her edition for Spike, "In-N-Out Burger" (2020), Beavers turned her painting back into a 2-D image, each print adorned with a sculptural burger emoji made out of masses of paint acrylic sits on top of the flat picture. These unique editions – not one is alike – prove that Beavers can just as well flatten her own images, and make them swell all over again.


Gina Beavers (*1974) lives and works in Newark, New Jersey. Recent solo exhibitions have taken place at MoMA PS1, New York; Gnyp Gallery, Berlin (both 2019); Michael Benevento, Los Angeles (2018); and Carl Kostyal, London (2017). Among other group shows she has participated in "The Art of Critique: Image Power", Frans Hals Museum, Haarlem (2020); "Painting/Sculpture", Marianne Boesky Gallery, New York; "I campi magnetici", Gió Marconi, Milan (both 2019); "Summer School", Flag Art Foundation, New York (2016).


10,00 €
unique Piece